At the freight station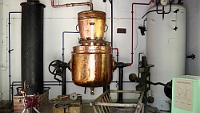 This building is a copy of a type of house which was typical for the Trier region, and this is why it is called the "Trier house".
Next to the Kollig farm there is a very different type of little building, which was discovered by museum staff when clearing out the old school in Portz, southwest of Saarburg.
The well at this point had probably been used for a long time to supply the farm with water. The fountain house, which is still visible today, was built in 1938 as part of the Limes programme
For us folklorists the water supply in times gone by is a not insignificant subject. From time immemorial people have had to go to great endeavours to obtain this precious liquid.What is the Lambach pump?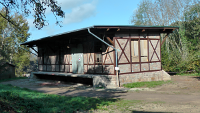 The Konz railway station was built in 1860 by a private railway company. It is located on the line Trier-Saarbrücken and has a branch to Luxemburg. In 1878. The construction of the so called "Kanonenbahn", leading from Koblenz to Trier to Metz, took place.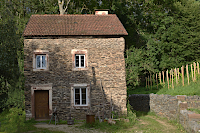 The house was originally located in Obermenning, about 5 kilometers beeline south of the museum in the so called "Konzer Tälchen" In the masonry of the building the number 1834 was found, which probably hints at the the year of its construction.
By the summer of 1999 the open air museum had dismantled this stone outbuilding dating from 1734 from the Konz district of Oberemmel. Built into an embankment, the lower floor was used as a ground floor cellar.
Above the house from Obermennig, a dry stone wall was laid out in the summer of 2019 over which a vineyard was planted in the spring of 2000 with the support of the Dr. Frey winery from Kanzem.
The garden belonging to the Saargauhaus was created in 2000/2001 as part of the cross-border project "Gardens without Borders" as a garden of plants typical of this region.